By Kimberly Partain McNamara
Migraine is a neurological disorder which is listed as the 3rd most common and the 6th most disabling illness in the world[1]. According to the National Headache Foundation, there are approximately 39 million Americans who are living with migraine disease and headache disorders, which equates to one in four households in the U.S. where someone is living with migraine disease[2]. Every 10 seconds, someone in the U.S. goes to the emergency room complaining of head pain, and approximately 1.2 million visits are for acute migraine attacks[1].
This DataByte examines visits to Utah emergency departments (ED) for 2016–2019 where migraines were the first-listed diagnosis (ICD-10 code G43), using the Utah Healthcare Facility Database, a dataset containing all inpatient, emergency room, and outpatient surgery/diagnostic procedures performed in the state.
One goal of migraine treatment and management is to reduce the number of migraine-related ED visits. In Utah, there has been a slight decrease in the number of people visiting the ED for a first-listed diagnosis of migraine over the past four years. There is evidence to suggest the use of migraine medicines taken daily, and medicines taken for acute attacks, have the ability to reduce ED visits[3]. In 2018, the FDA approved three new medications (all CGRPs, or calcitonin gene-related peptides) which were the first drugs ever designed specifically to prevent migraines and reduce their frequency, intensity, and duration[4].
Figure 1. Total ED visits with primary diagnosis of migraine, Utah, 2016–2019
In addition to the advancements in migraine medicines, new devices using electrical or magnetic pulses have been developed to quell migraine-related brain activity[5]. These devices, approved by the FDA in 2017, are the first medical devices to ever be granted marketing by the FDA to relieve pain caused by migraine headaches, and have been shown in clinical studies to be effective[6].
Although ED visits where migraine was the first-listed diagnosis have been slowly declining, migraine is among diseases and public health issues that remain poorly understood, according to the Migraine Research Foundation. As of 2020, there were roughly 39 million sufferers in the U.S. and about 700 certified headache specialists[2]. Little research has been performed to specifically evaluate underserved populations related to people with migraine disease, though there is evidence to suggest healthcare systems inadequately serve people with migraine who live in rural areas.
One of the biggest impediments to adequate treatment is getting adequate diagnoses and treatments.  When there are inadequate diagnoses or treatments, emergency rooms become the default for some patients. In Utah, there are about 10 UCNS (United Council of Neurologic Specialties), certified headache specialists, for almost three million people, and all of these specialists are in metropolitan areas from Provo to Ogden—leaving much of Utah underserved with headache specialists.

–Dr. Kathleen DiGre, migraine specialist, founder of the University of Utah Headache Clinic, distinguished professor at the University of Utah, and past-president of the American Headache Society
For geographic comparisons, Utah is usually divided into one of three categories based on the number of people per square mile: frontier (fewer than six people per square mile), rural (six to 99 people per square mile), and urban (more than 100 people per square mile). The Utah ED visit rate per 100,000 population for first-listed diagnosis of migraine is highest in frontier areas (428.9), followed by rural (300.0) then urban (242.2) for 2016–2019. Below is a graph which shows visit rates per 100,000 population in Utah for 2016–2019 by area and gender.
Figure 2. Migraine ED visits per 100,000 population by geographic categorization and sex, Utah, 2016–2019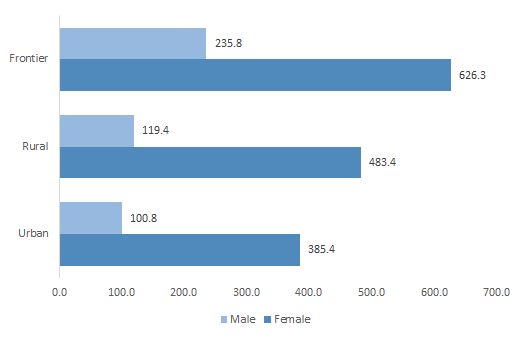 It has been well documented that migraine disproportionally affects women, and in the U.S., three times as many women as men suffer from migraine. This held true for Utah, where women accounted for 78.8% of all ED visits where migraine was the first-listed diagnosis for 2016–2019. Migraine prevalence was higher in females in all areas compared with males.
Although it can be difficult to diagnose migraine, it is clear that prevention methods have been improving and that providers are looking to decrease ED visits for patients with migraine.
---
[1] Migraine Research Foundation, Migraine Facts, https://migraineresearchfoundation.org/about-migraine/migraine-facts/
[2] National Headache Foundation, The Prevalence of Migraine Disease and Headache Disorders, https://headaches.org/about/
[3] At-Home Treatment Strategies to Try Prior to Visiting the Emergency Department, April 1, 2016, Vanessa Doyle, MD, https://americanmigrainefoundation.org/resource-library/migraine-stroke-heart-disease/
[4] Are the new migraine medications working? October 2019, Harvard Health Letter, https://www.health.harvard.edu/diseases-and-conditions/are-the-new-migraine-medications-working
[5] A New Era for Migraine Relief, November 1, 2019, Greg Breining, https://www.aamc.org/news-insights/new-era-migraine-relief
[6] Treating Migraines: More Ways to Fight the Pain, February 23, 2017, https://www.fda.gov/consumers/consumer-updates/treating-migraines-more-ways-fight-pain