By Brantley Scott
Introduction:
One of most common shoppable medical procedures is colonoscopies. They are generally non-urgent with a variety of options for where these procedures can be performed. Depending on where the procedure is done the costs can be significantly different. The three most common places of service are at a clinic, ambulatory surgery, or an outpatient hospital setting.
Results:
Using 2018 commercial data in the Utah APCD the least costly location was a clinic, followed by an ambulatory surgery facility, and then an outpatient hospital setting. The median price ranged from $825 to $1,470. Noteworthy, the lower 25th percentile for each of the place of service categories was more expensive than the median of the sequent cheaper option.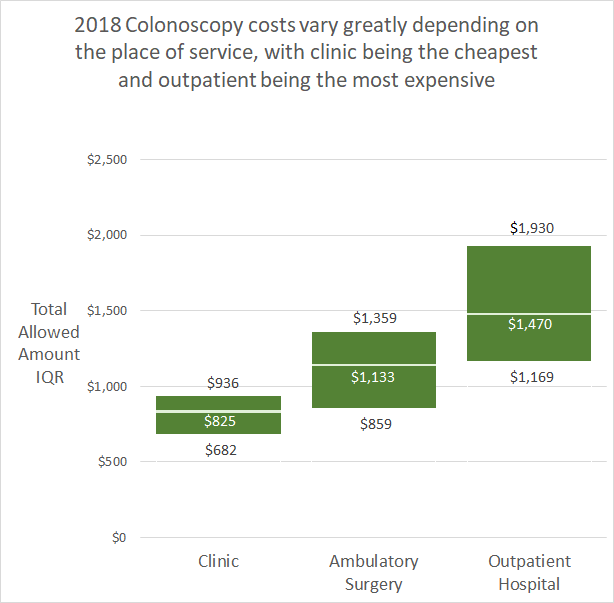 In 2018 72.8% of the qualifying colonoscopies were performed in an outpatient setting while 16.5% and 10.7% were performed in an ambulatory surgery and clinic setting respectively. This indicates that there is much that can be done to shift the majority of colonoscopies from high cost to lower cost places of service.
Methods:
Colonoscopy cases were determined by the CPT4 codes 45385, 45380, 45378. These codes represent over 90% of all colonoscopies performed and exclude the more complicated colonoscopy procedures. Only commercial insurance claims that were marked as primary paid were used. Total costs were calculated by linking a members claims to all others that were performed that day with the qualifying CPT4 codes. Place of service was determined by using the Milliman HCG settings and claim place of service codes.
Conclusion:
Costs for a colonoscopy vary depending on the place of service. Many preventive colonoscopies are fully covered procedures. However, selecting a low cost option may have a broad impact on the healthcare industry at large. Working together we can help lower the cost of healthcare locally and nationally. Check with your insurance provider for in-network low cost and high quality locations near you.