By Brantley Scott
April is Autism Awareness Month and the Office of Health Care Statistics at the Utah Department of Health, in partnership with the Disability and Health Program, decided to look at what other health conditions people with autism might have and how that compares with the general population.
The data used in the DataByte comes from both commercial and Medicaid claims from 2017 through 2019 in the Utah All Payers Claim Database (APCD). The Milliman Advanced Risk Adjuster (MARA) was used to classify health conditions. MARA has been used nationally since 2009 and contains more than 1,200 different health category classifications. For this analysis, the risk adjuster tool looked across the three years of data, then assigned clinical categories to all people based on claims generated. This analysis was then divided into three age groups: 2-9, 10-18, and 19+.
We discovered that patients with autism had many more MARA categories assigned than the general population. In particular, attention deficit hyperactivity disorder (ADHD), constipation, depression, developmental delays, and insomnia stood out as notably higher among those with autism than those without. Although there were differences between these two populations, there were also similarities. These similarities included: cough, fever, pharyngitis (sore throat), obesity, otitis media (ear infection), and superficial injuries.
We compiled the following word clouds to provide a contrast for how often individuals with autism were classified with certain health conditions compared with people without autism. The relative location of each health condition is similar between the two populations. Additionally, the size of the word in the graphics is consistent with the proportion of those who received these classifications:
---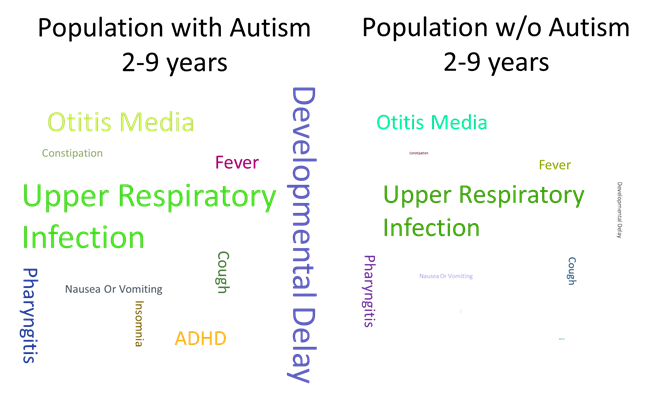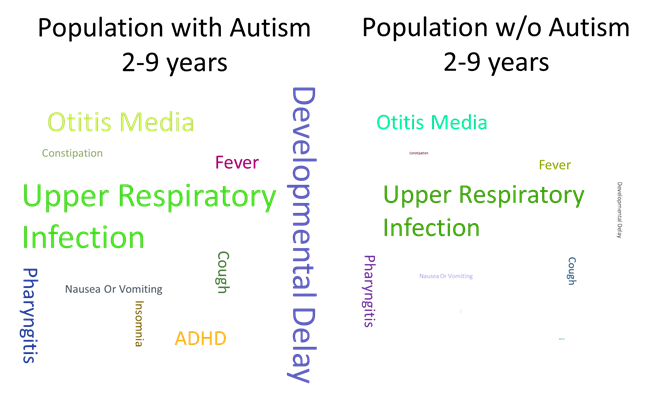 The study also considered emergency room (ER) use for individuals with and without autism. We found that for the 19 and older age group with autism, the main reason for the ER visits were suicidal ideations. For youth with autism (10-18 years old), the top two reasons for ER use were major depressive disorder and suicidal ideations. ER visits with these diagnosis codes for autistic patients were nearly double that of the non-autistic population.
While it is challenging to determine the reasons why people with autism had more negative health condition classifications, this analysis represents an objective picture of other health conditions that are often present in people with autism in Utah. Determining the reasons behind these classifications was beyond the scope of this analysis.
Anna Braner, Utah Department of Health Disability and Health Program, says, "Raising awareness and increasing access to data on the health of people with disabilities is key to addressing existing disparities. The data helps guide our program and partner efforts in improving opportunities for Utahns of all abilities to adopt healthy lifestyles, prevent and manage chronic diseases and become more integrated into the communities in which they live."
This DataByte highlights some of the diagnosis differences between the population with autism and population without autism. We hope this brief article helps increase understanding and awareness of some of the additional health conditions facing Utah's population with autism.